Natural Ingredients | Kimberly Elise Naturals Alchemy 27
Kimberly Elise Naturals Alchemy 27 is a hair & scalp elixir for women with any hair texture who have experienced visible hair breakage from damaging hairstyles, heat, and environmental stress. Crafted seasonally in small batches for purity and quality, Kimberly Elise Naturals Alchemy 27 will rouse your sleeping scalp just in time for spring. Learn more about the 27 different oils below.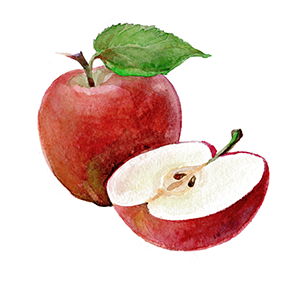 Apple Seed Oil is rich with fatty acids and amino acids. Used as a hair conditioning agent and emollient, apple seed oil helps fortify your hair while improving elasticity.
Coconut Oil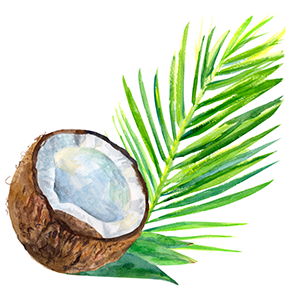 Coconut Oil is a powerful oil used for its nourishing, penetrative, and protecting properties. Rich in Vitamin E, lauric acid, and omegas 9 and 6 fatty acids, coconut oil will nourish your hair while protecting it from environmental hazards.
Avocado Oil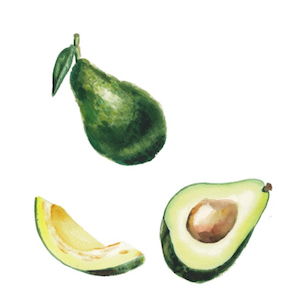 Avocado Oil is a light, penetrative oil derived from the skin of avocados. Known for its softening, soothing, protecting, and nourishing properties for the hair and skin, avocado oil contains vitamins A, B, D, and E; omegas 6, 9, and 3 fatty acids.
Jojoba Oil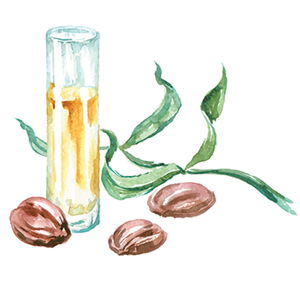 Jojoba oil is the formula's carrier oil and is derived from jojoba beans. This pale yellow liquid wax closely resembles natural hair sebum, and therefore does not interfere with the scalp's natural balance. It contains vitamin E; omegas 3, 6, and 9 fatty acids.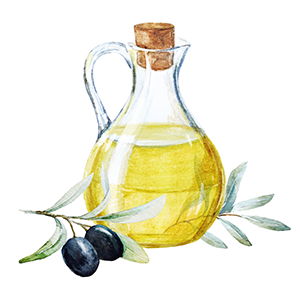 Olive Oil  has anti-inflammatory properties that promote scalp health and prevent dandruff. Olive oil contains omegas 9 and 6 fatty acids and vitamins E and K , importantantioxidants for hair growth.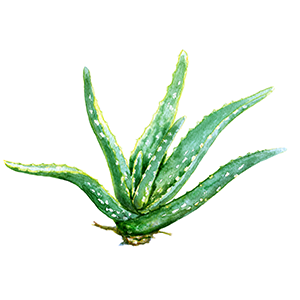 Aloe Vera Oil contains over 20 minerals and many vitamins like B vitamins, A, C, and E. It increases blood circulation to the scalp, providing hair follicles with the nutrients they need to grow strong, thick hair.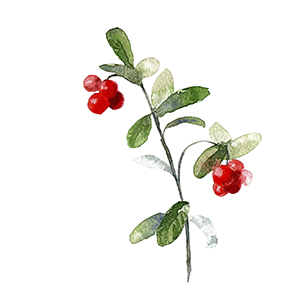 Cranberry Seed Oil helps to soothe, nourish, and balance a scalp irritated by stress. Essential fatty acids calm inflammation and improve overall condition of the hair.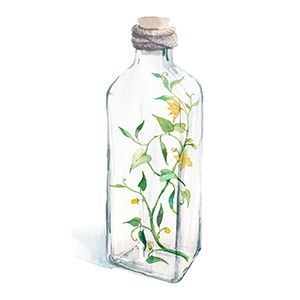 Bhringraj Oil is a natural remedy frequently used in ayurveda healing. Perscribed in Eastern medicine as a hair tonic for baldness.
Carrot Oil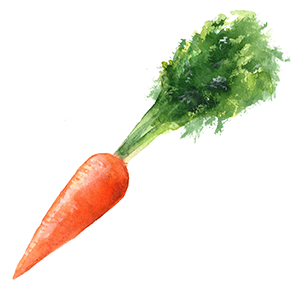 Carrot Oil is antibacterial and rich in beta-carotene . This gentle oil is famous for its antibacterial and healing properties. They are found to be capable of infusing moisture to dry skin, scalp and hair.
Pumpkin Seed Oil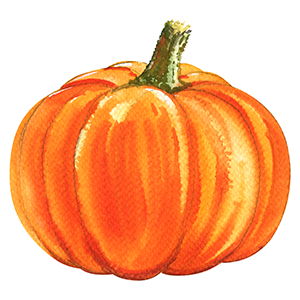 Pumpkin Seed Oil offers a rich source of vitamins A, K, and E. It also contains other nutrients like omega-6 fatty acids, zinc and iron, which offer a host of benefits for the skin and hair. When used on the mane, it's said to improve hair growth, strengthen strands, and add shine.
Baobab Oil
Baobab Oil c ontains essential fatty acids needed for deep hydration and nourishment, also loaded with vitamins A, D, E, and F, which all combine to improve the elasticity of hair and encourage cell regeneration.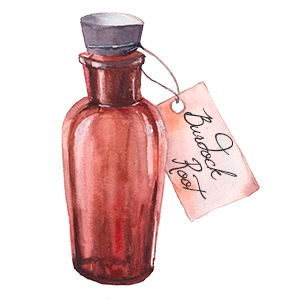 Burdock Root Oil can help strengthen hair by nourishing the scalp with its vitamin A content and essential fatty acids. It may also reduce the apperance of dandruff and itchy scalp.
Argan Oil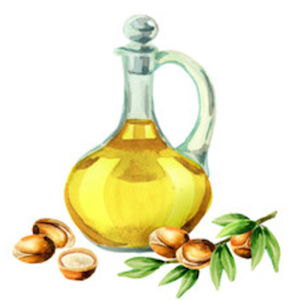 Omega 3 and Omega 9 in argan oil are a rich source of essential nutritional components for hair shafts and roots. These unsaturated fatty acids strengthen the protein bonding structures in dry natural hair, thereby improving the strength of hair and healing split ends.
Black Castor Oil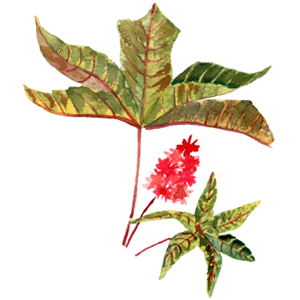 Black Castor Oil in its raw and unrefined state is rich in vitamin E and essential fatty acids that are important for growing healthy hair growth. Centuries ago, the Egytians used castor oil for the skin and the hair and to heal wounds. The beans were even found in an ancient tomb.
 
Clove Bud EO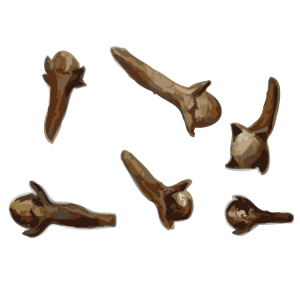 The clove is the unopened flower bud of the clove tree. Cloves are handpicked when they are pink and then dried until they turn brown. Clove Bud EO helps to stimulate blood flow to the scalp, which can help promote hair growth. Its active component, eugenol, protects against environmental pollutants.
Lavender Essential Oil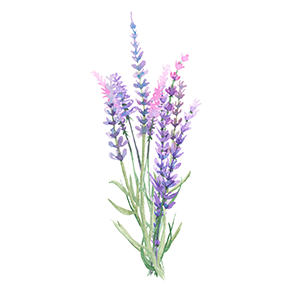 Lavender EO is regarded as one of the most powerful and versatile essential oils. Native to France, this lilac-colored flower produces an oil that is antibacterial, antiseptic, anti-inflammatory, and calming for the mind.
Thyme Leaf Essential Oil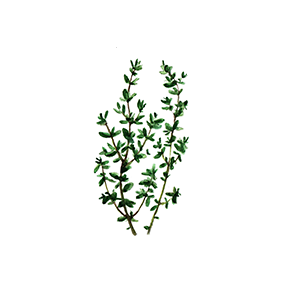 Thyme Leaf EO is steam-distilled from the small, evergreen shrub from the mint family. In ancient Greece, thyme was burned as incense for sacred ceremonies as a symbol of courage. Its pungent aromas help awaken a sleeping head.
Rosemary Essential Oil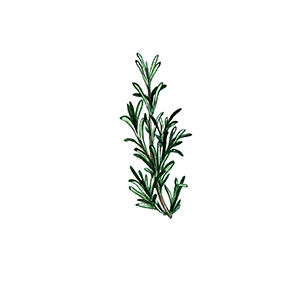 Rosemary EO, with its distinctive woody fragrance, has been used for centuries for a variety of health and beauty benefits. The aroma of the herb rosemary is used for stregthening memory and stimulating blood flow.
Cypress Essential Oil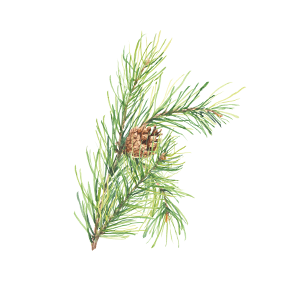 Cyperus EO is derived from sedge roots, which contain essential oils that are known by herbalists to help the hair appear fuller and healthier. Cyperus is similar to the Egyptian papyrus plant.
Sage Leaf Extract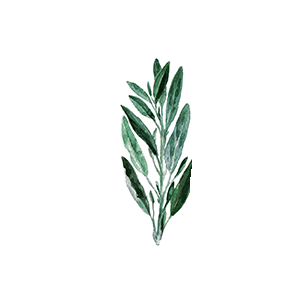 Sage EO has been considered sacred by Greeks, Romans, Arabs, and Christians. Sage contains essential oils that are known by herbalists to make the hair appear fuller and healthier.
Ylang Ylang Essential Oil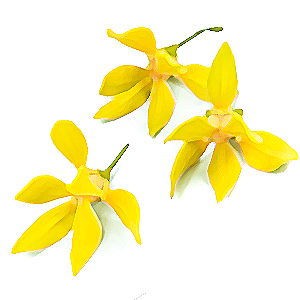 Ylang Ylang EO is a very light yellow, fragrant liquid from the Philippines. It's properties are known by herbalists to revitalize & restore the beauty of hair.