8 Tips To Retain Moisture In Dry Hair
Posted on July 17 2016
If your hair is naturally dry or dries out by the end of the day, you may be experiencing breakage, lack of hair growth, or damage.
Fortunately, there are a few good ways to retain moisture in your hair without having to use too many products.
1. Try the LOC (Liquid-Oil-Cream) or the LCO (Liquid-Cream-Oil) Method
To do these methods, add a water-based leave-in product or simply water to damp hair. Next, apply your favorite oils such as coconut oil, almond oil, or olive oil that will serve as surfactants. Finish up by adding a heavier, thicker cream to your hair in order to lock in the oil. Any product that does not have a liquid or any water will be good to use as your cream. I use 100% shea butter as my cream but you can use whatever cream that works best with your hair type. With the LCO method, you apply the oils last.
2. Dry your hair with a T-shirt or with a jersey knit towel after washing or co-washing your hair.
Terry cloth tends to pull oil and moisture out of your hair whereas a soft jersey knit is more gentle on your hair. To learn more about using a t-shirt or jersey knit towel to dry your hair, read this article
"The Best Way to Dry Natural Hair & Prevent Frizz"
Video By:
Amber of NaturallyGG
3. Do not over-wash your hair.
Some naturals wash their hair daily or weekly. Daily washing may be excessive as too much water can actually dry your hair out by rinsing natural oils from your strands. Stick to a routine that allows for a clean scalp without over-washing your hair.
4. Use a leave-in conditioner that will help your hair lock in moisture.
Again, you can use the LCO or the LOC method with your leave-in conditioner. A leave-in conditioner goes the extra mile by helping to make sure your natural oils stay in your hair. Leave-ins help make your hair feel soft and shiny. To learn more about moisturizing your natural hair, check out
Kimberly's eBook "Curly Hal
o," which will teach you to build a healthy hair and life regimen to prevent breakage and yield growth.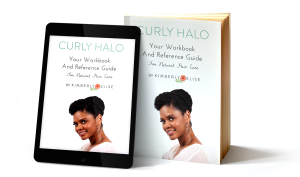 5. Do a hot-oil treatment at least once a month depending on your hair type.
My favorite hot oil treatment is made up of castor and peppermint oil. I do this once a month while inverting my head in order to stimulate hair growth. This is a relaxing way to retain moisture in dry hair.
6. Sleep on satin pillow cases and wear satin hair wraps to bed.
Satin is great for helping to retain moisture in your hair as cotton can cause friction and tug at your delicate strands. If you're a wild sleeper, sleep on a satin pillowcase and double up with a scarf, bonnet, or cap.
Hair Model:
Blogger Baroness Countess
 | Instagram @baronesscountess
7. Re-moisturize your hair every three days.
Re-moisturizing your hair every few days will help tons in keeping your hair from drying out. You can do this by spraying your hair with water and adding your oils and cream. Don't add too much or else your hair will be greasy.
8. Use a leave-in detangling spray throughout the day to retain moisture.
If your hair is super dry or for summer months, use a leave-in spray throughout the day to moisturize your hair. This will keep your hair fresh, soft, and shiny. You can even make your own leave-in spray like how I did.
Get the recipe here. 
Check out
Kimberly's eBook "Curly Halo
," to get more tips on taking care of your natural hair.
Love this video tutorial? Check out NaturallyGG on Youtube & Instagram @naturallyGG