10 Tips to Grow Natural Hair Fast
Posted on July 17 2016

Hair Goal: GROW baby, grow! Every natural wants thick, full hair and while there are a million and one ways to try to grow natural hair, vlogger Natural Neiicey shares with us her tried-and-true hair tips to help grow hair fast.
Check out the video below to start taking care of your hair and maximizing its beautiful potential. Video By:
Natural Neiicey
1. Wear low manipulation styles that will last a few days to a month to protect your natural hair.
Some ideas are flat twists, braids, two-strand twists. These styles will allow your hair to breathe and keep your hands and combs out of it. Low manipulation hairstyles or protective hairstyles will help prevent breakage and damage.
2. Wear a Satin Lined Cap (Slap) or other satin or silk covering to bed or throughout the day.
It will help to retain moisture and protect your style, keeping it fresh. Satin Lined Caps are great for running errands and protects your hair against harsh elements including the rain or the sun. Satin bonnets and scarves are great if you don't move around too much in your sleep. If you're a mover and a shaker in bed, the Satin Lined Cap is the best way to go.
Enter our giveaway (Contest ends 4/17/2016) to win your very own Slap!
3. Co-Wash Your Hair with only conditioner and no shampoo at all.
Co-washing your hair is like watering a plant, according to Natural Neicey. This is great for transitioning and helps add moisture in your hair.  
4. Detangle with a wide-tooth comb or a detangling hair brush to prevent extra breakage and prevent pain while detangling.
Remember to moisturize your hair before you detangle. Kimberly's favorite detangling hair brush is by
Felicia Leatherwood
.
5. Find out your hair porosity level.
This will help you save money on buying products that won't help your hair type.
Kimberly's eBook "Curly Halo
," teaches you about hair porosity and how to find your porosity type.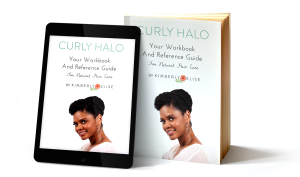 6. Keep your scalp clean.
A healthy scalp aids in hair growth as build-up will actually keep your hair from growing.
7. Deep condition your hair because it will help your hair be shiny, healthy, and moisturized.
Deep condition your hair at least once a week (if you have dry hair) or once a month.
8. Be consistent and build a regimen.
Find out what works for you. Maybe it's washing your hair weekly, deep conditioning monthly, and co-washing twice a week. Whatever you do, be consistent. Don't just wear a satin scarf to bed a few nights a week, wear it every night. Being consistent will help your hair get used to a healthy hair regimen. Check out
NaturalNeiicey's Nighttime Maintenance Routine
to learn more about building a regimen before going to bed.
9. Get rid of the heat.
"Don't be flat-ironing your hair everyday!" Natural Neicey says. Heat can cause serious damage and prevent growth.
10. Trim your hair as needed.
Do so only when you need to in order to get rid of split ends or dry ends. Natural Neicey trims her hair every 6 months. Make sure you download
Kimberly's eBook "Curly Halo
," to learn more hair tips to grow your hair.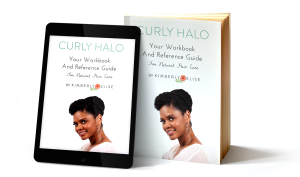 Love NaturalNeiicey? Follow her :) Youtube: 
https://www.youtube.com/user/PGneiicey
Facebook: 
www.facebook.com/naturalneiicey
Instagram & Twitter: @naturalneiicey